Annual Review of Information Science and Technology (ARIST), Volume 37
2003 volume in scholarly series debuts in Philadelphia at annual ASIST conference
November 18, 2002, Medford, NJ — Information Today, Inc. (ITI) announces the publication of Volume 37 of the Annual Review of Information Science and Technology (ARIST) at the annual conference of the American Society of Information Science and Technology (ASIST), held at the Wyndham Philadelphia at Franklin Park November 18-21.
Since 1966, ARIST has been continuously at the cutting edge in contributing a useful and comprehensive view of the broad field of information science and technology. The series encompasses all aspects of the field, with topics for the annual volume selected by the editor on the basis of timeliness and an assessment of reader interest. The 2003 volume, edited by Blaise Cronin, features contributions from nearly 20 leading scholars and researchers.
The contents of Volume 37 are:
• Information Retrieval and the Philosophy of Language, by David C. Blair
• Natural Language Processing, by Gobina G. Chowdhury
• Indexing and Retrieval for the Web, by Edie M. Rasmussen
• Electronic Journals, the Internet, and Scholarly Communication, by Rob Kling and Ewa Callahan
—more—
• Visualizing Knowledge Domains, by Katy Börner, Chaomei Chen, and Kevin W. Boyack
• Museum Informatics, by Paul R. Marty, W. Boyd Rayward, and Michael B. Twidale
• Music Information Retrieval, by J. Stephen Downie
• The Concept of Information, by Rafael Capurro and Birger Hjørland
• Task-Based Information Searching, by Pertti Vakkari
• The Role of Trust in Information Science and Technology, by Stephen Marsh and Mark R. Dibben
• Information and Equity, by Leah A. Lievrouw and Sharon E. Farb
Blaise Cronin is the Rudy Professor of Information Science at Indiana University, Bloomington, where he has been Dean of the School of Library and Information Science since 1991. Cronin is a prolific author and editor whose research focuses on scholarly communication, citation analysis, and cybermetrics—the intersection of information science and social studies of science.
or log on to the ITI Web site at www.infotoday.com.
---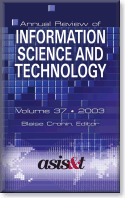 Annual Review of Information Science and Technology (ARIST), Volume 37
ARIST 37 is published by Information Today, Inc. on behalf of the American Society of Information and Science Technology (ASIST). For more information or to order, contact the publisher directly at 800-300-9868 (outside the U.S. call 609-654-6266); fax 609-654-4309; e-mail custserv@infotoday.com; or simply click on the "Order Now" button (left).
693pp/hardbound
ISBN: 1-57387-154-0
$79.95 ASIST member/$99.95 non-member