International Literary Market Place 2003
New Edition of Global Book Publishing Resource
October 8, 2002, Medford, NJ — Information Today, Inc. (ITI) announces the release of the latest edition of the popular directory International Literary Market Place (ILMP). With global coverage of the book publishing industry in 180 countries, ILMP 2003 details everything from publishers, manufacturers, and book dealers to major libraries and literary associations.
The completely updated ILMP 2003 profiles more than 16,500 book-related concerns around the world; it enumerates every aspect of the publishing community and includes the following benefits:
entries listing key personnel, company addresses, interest in buying/selling international rights, and ISBN prefixes;
a calendar of international publishing and book trade events; and
access to publishers via some 142 subject headings identifying the fields in which they publish.
Conveniently organized in a country-by-country format, ILMP 2003 provides information on an astounding 10,500 publishers and literary agents; 1,100 major booksellers and book clubs; and 1,520 major libraries and library associations.

All of the information in International Literary Market Place 2003 can also be found online at literarymarketplace.com. In addition to including the listings found in ILMP, the online version includes listings found in Literary Market Place, the ultimate insider's guide to the U.S. and Canadian book publishing industry, as well. For an annual fee, the easy-to-use Web site lets subscribers:
find publishers of a particular subject and/or type of publication;
click on hotlinks to publishers' Web sites; and
download information to create personal contact lists for address files and mailing labels.
---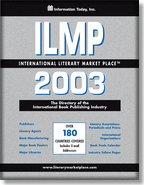 International Literary Market Place 2003
International Literary Market Place 2003 is available from Information Today, Inc. Subscriptions to literarymarketplace.com are also available for $399/year for individuals (call for site licensing information). To order ILMP 2003 or to register for literarymarketplace.com, call 800-300-9868 (outside the U.S. call 609-654-6266); fax 609-654-4309; e-mail custserv@infotoday.com; or simply click on the "Order Now" button (left).
1,762 pp/softbound
ISBN: 1-57387-144-3
$229