Annual Register of Grant Support 2003—36th Edition
The Latest Edition of the Premiere Directory of Funding Programs
September 9, 2002, Medford, NJ — Information Today, Inc. (ITI) announces the release of the 36th edition of the Annual Register of Grant Support, a comprehensive directory that provides details on more than 3,500 major grant programs.
Each year, more than $200 billion in grants, awards, fellowships, and gifts are available to individuals and organizations. Grant Support 2003 enumerates the programs offered by a broad spectrum of private and public foundations, government agencies, corporations, unions, educational associations, professional organizations, community trusts, and other special interest groups of all types and sizes. The directory is the preeminent source of funding for individuals and organizations involved in:
international affairs and area studies;
the humanities;
urban and regional affairs;
education;
social, physical, and life sciences; and
technology and industry.
There are also programs specifically catered towards women, minorities, the disabled, and other special populations. Grant programs are arranged by topic and cross-referenced by subject area—with 61 specific subcategories. Each program listing includes information on eligibility requirements and restrictions, application procedures and deadlines, and grant size or range. In addition, every listing contains a detailed background on the organization including the founding date, contact information, and a description of its key areas of interest.

The Annual Register of Grant Support 2003 provides a complete tutorial on preparing a professional-quality grant proposal. Written by the Grantsmanship Center and packed with guidelines, tips, and examples, "Program Planning and Proposal Writing" illustrates how to target the right program, present a workable budget, avoid typical mistakes, enhance credibility, and much more.
---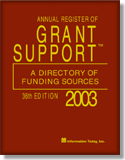 The Annual Register of Grant Support 2003
The Annual Register of Grant Support 2003 is available from Information Today, Inc. To order, please contact the 800-300-9868 (outside the U.S. call 609-654-6266); fax 609-654-4309; e-mail custserv@infotoday.com; or simply click on the "Order Now" button (left).
1,500 pp/hardbound
ISBN: 1-57387-145-1
$229