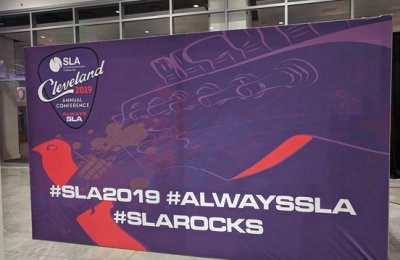 Having a convention within walking distance of the famous Rock & Roll Hall of Fame means that your conference logo and branding had better rock too.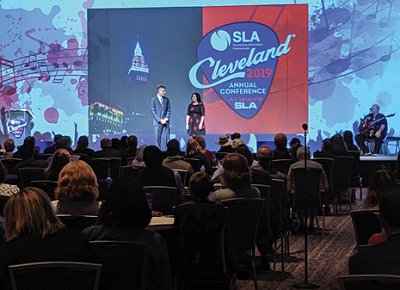 SLA president Hal Kirkwood (left) shared the big stage with SLA executive director Amy Lestition Burke during opening remarks.
Leon Logothetis delivered a keynote that centered on kindness.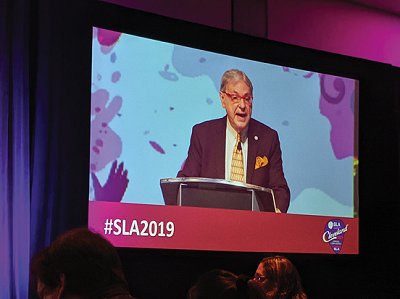 John Cotton Dana Award recipient Guy St. Clair as seen on the large screen during the conference's opening general session.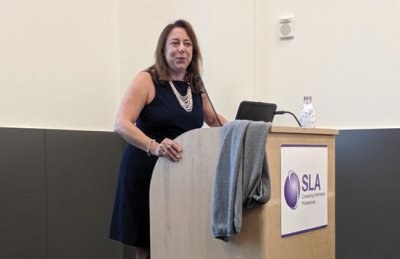 Karen Reczek, a program manager at the National Institute of Standards and Technology, delivered a master class in proving the value of corporate information professionals.

The location of SLA's 2019 annual conference was Cleveland, perhaps best known as the home of the Rock & Roll Hall of Fame. Hence, this year's conference theme, SLA Rocks (#SLArocks and #SLA2019).
Starting With a Slow Tempo
While I did visit the Rock Hall while I was in town—and it did rock—the rest of downtown Cleveland was quiet and somewhat mundane. Granted, I was there from Friday evening, June 14, through midday on Monday, June 17, so I didn't see the area at peak times.
Still, a quiet location can be nice. Restaurants didn't have long lines stretching outside of their doors. I didn't feel as if I was taking my life into my hands while crossing streets during the short walk from my hotel to the Huntington Convention Center of Cleveland. And the conference itself was compact enough that my feet weren't aching at the end of each day. The convention center was very active, though, once the 1,200-plus attendees arrived.
However, my conference experience began before most others were on the scene. I taught a half-day continuing education class, Writing Influential Copy: Value Statements, Elevator Speeches, and More, on Saturday morning. The group of students was small but attentive, as is often the case for pre-conference workshops that have additional registration fees. I covered the Cycle of True Marketing (www.librariesareessential.com/library-marketing-resources/cycle-of-true-marketing) and took a deep dive into effective communication skills. After learning the concepts, the students practiced writing value statements, which we then discussed and improved as a group. This way, each person left with at least one excellent statement to use when people ask whether libraries are still necessary, as well as with the knowledge to craft others as needs arise.
SLA's Opening Chords
On Sunday morning, the crowds rolled in as the conference really got underway. I chose to begin my day by listening to the wisdom of longtime SLA member and presenter Mary Ellen Bates. She shared basic guidelines ("think like your upper management") during her Hot Topic session, Getting the Most From Your Info Dollar: Leveraging Data for Greater Value.
Bates reminded listeners how important it is to support their organizations' strategic goals and to focus on what can "reduce risk." She mentioned numerous ways for information professionals to prove their value to their companies, and most of them were tied to tracking data and taking measurements. She recommended keeping records of people and/or departments you've served, then going through company news 6–12 months later to see which projects succeeded and which of those you did research for. Then, when it's time for your performance review, you'll be able to present statistics such as, "X percent of patents awarded in the last fiscal year were supported by our info center's research."
During that 60-minute session, Bates discussed much more, but one story in particular really got my attention. While touting the importance of face-to-face interaction, she mentioned knowing someone who promoted his expertise by having "stump the chump Fridays." He would sit outside the company cafeteria and challenge those who passed by to stump him with a research question. As Bates explained, employees would ask questions on their way in to have lunch, and her friend would give them answers on their way back out. This proved the info pro's savvy in a fun, memorable way, even if he didn't always find the answers (although he usually did). Bates concluded the story by declaring, "It's a no-lose proposition."
The opening general session started at 10:30 a.m., but the keynote itself did not. This opening session included lots of music: Befitting Cleveland, a guitarist sat on one corner of the big stage and played varied selections as attendees filtered into the ballroom and got settled. As the formal presentations began, he played and sang "I'm Alright" (by Kenny Loggins), at which time SLA president Hal Kirkwood danced across the stage toward the podium. Kirkwood greeted the crowd and explained that he currently works as the Bodleian business librarian at the University of Oxford's Saïd Business School in the U.K., but he's originally from Cleveland.
As a sort of master of ceremonies, Kirkwood introduced and thanked various SLA employees, members, volunteers, and sponsors. Acknowledging the constant changes in the world, he said the organization's board is working on "building a new SLA for a new ecosystem."
Finally, Kirkwood bestowed SLA's John Cotton Dana Award on Guy St. Clair. (SLA's Dana award is for lifetime achievement and exceptional service to SLA and to the profession; ALA's Dana award is for public relations.) During brief, humble remarks, St. Clair harkened back to the earlier industrial and technological revolutions and said he thought a "knowledge revolution" would be seen as the next major one in our ever-evolving world. "Knowledge will fuel the advances of our own time, now and in the future," he predicted.
In the Key of Leon
Halfway through the 90-minute time slot, keynote speaker Leon Logothetis finally appeared. This Brit is the author of The Kindness Diaries and hosts a Netflix show by the same name. His presentation was all about kindness, which can certainly apply to librarians, but he didn't draw any parallels between his work and libraries at all.
Logothetis feels the most important thing in life is "to truly see another human being," to make people feel like they matter. "Because when you see someone, you give them fuel to live their greatest life," he believes.
Logothetis told stories of his adventures traveling the globe with no food, money, or hotel reservations, relying on the kindness of whomever he came in contact with. His talk was interesting and even tear-inducing and filled with lines such as "kindness is free" and "true wealth is not in our wallets; it's in our hearts." Sadly, though, it didn't relate directly to the conference at all. I'd love to have a look at conference evaluations to see whether other attendees thought he was a worthwhile speaker.
Lunch Hits the Right Note
I thought SLA did a great job at something else, and that was having a buffet lunch set up inside the exhibit hall. This ensured that everyone spent time there, even if much of it was at the numerous tables that were set up for diners. People still had to wander past slightly more than 100 vendor booths, and the luncheon provided great networking opportunities as well. There were also a couple of cake and champagne celebrations to mark the organization's 110th anniversary.
Later that afternoon, I was able to sink my teeth into a great presentation that provided a smorgasbord of good advice. Karen Reczek's talk was titled Add Value, Calculate ROI and Optimize Your Organizational Alignment. She began by telling listeners why it's vital to prove that their information centers make a difference to their organizations: the number-one reason is, "you're vulnerable." Corporate managers may not be aware of all the nitty-gritty details that underlie their success, so they may not understand why libraries matter. They often don't realize that employees do not, and perhaps cannot, do all their own research.
Cost-cutting measures target departments that don't have obvious connections to keeping the company financially healthy. Therefore, Reczek said, it's smart to "tailor your services to departments that drive revenue." Information professionals must practice "continuous alignment" with corporate goals and must be able to tie their research and support directly to important companywide outcomes.
In discussing quantitative goals, Reczek reminded the crowd, "Just because we can count it doesn't mean it's important." You may need to stop counting the classics like the number of database users and instead count what matters to your stakeholders, such as how much money your work saved the company. She discussed how to measure ROI, how to do cost/benefit analysis, and how to practice cost recovery and cost avoidance.
On the qualitative side, Reczek talked about the importance of benchmarking your info work against that of other organizations. Tools such as LibQUAL+ and SERVQUAL can help you make important points using the language of numbers, which appeals to certain stakeholders. She also recommended asking internal clients for impact metrics. Tracking and reporting them can prove that various departments not only use, but also benefit greatly from, professional information services.
Writing the Next Song
During my short time at SLA 2019, there weren't many sessions related to marketing, promotion, and proving the value of info pros, so this report is brief. (Although the Sept./Oct. 2018 issue of the association's magazine, Information Outlook, did have a marketing-related theme, "Communicating Your Library's Mission.")

SLA's next annual conference will be in Charlotte, N.C., June 6–9, 2020. Keep an eye on www.sla.org to get details as they're finalized.