I was hired for my first-time directorship by the Lester Public Library (LPL) in Two Rivers, Wis., in March 2007. This rural town of roughly 12,500 people on the shores of Lake Michigan is driven by agriculture and manufacturing. I knew it would be a challenge for me to become part of the community, but I wanted to have an active role. Social networking helped me achieve this goal even faster than I had thought was possible.

As director, I immediately set up and took responsibility for LPL accounts for Flickr, MySpace, Facebook, and YouTube. I also created a blog called Blogging LPL. I had two main reasons for doing all of this: First, we have a small, dedicated staff, and I didn't want to add to those folks' already-full plates. I also wanted to brand Lester Public Library, Two Rivers, Wis., as quickly as possible on these social networks because there are four Lester Public Libraries in the state of Wisconsin. Since all of these networks are free except Flickr, which has a $25 annual fee for unlimited access, using them enabled me to expand upon a meager marketing budget ($1,500 a year).

I dusted off my digital camera, which had sat largely unused since I purchased it in 2004. I started snapping photos of the library and posting them on Flickr. I took photos of everything associated with my library because I wanted to share our beautiful facility. I took pictures of events, staff, furniture, posters, the building, and the grounds. I even took photos of photos.

During my first year of photo-taking, a staff member suggested taking a shot of Lake Michigan from the same spot every day over the course of a year. Thus, my first project spanning a year of photos became a morning missive, a meditation, if you will. Every day, I shot a photo from the window of our youth services department, which looks toward Lake Michigan. The set was dubbed "This morning from Youth Services." I began to think of the power of sharing this particular photoset with the world because it told the story of our library and our town. It allowed people to literally watch the seasons change and to enjoy the beauty of our singular location.

Each year, I have continued this project from a different location, calling it "Good morning from LPL."
Promoting Everything With Flickr Photos
Back when I was researching my move to Two Rivers, I had been dismayed by the lack of photos available online that showed city events and places. So, thinking of Flickr as a promotional tool not only for my library but also for my new town, once I got here I started carrying my camera with me everywhere. An early photoset titled "Library Director as Tourist" reflects this activity. Today, with more than 8,700 photos posted to Flickr, I have filled the online photo void for the city.
I snapped photos of our community's many parades and festivals, put the photos on Flickr, and promoted the site to my city department heads. Our city manager took notice and mentioned our Flickr photos in his weekly newspaper columns and during televised city council meetings. Because of this exposure, I was interviewed on local radio and in the newspaper, and now I write a biweekly library column for the Manitowoc Herald Times Reporter. An incredible thing happened: Through the use of the standard networking/marketing tools of radio, TV, and the newspaper, we were directing people to a virtual library experience.
Here's one secret to effectively using Flickr: Only post good photos. Practice quality over quantity.
How I Keep Up With Everything
Flickr is the mainstay that feeds all of my other social networks. I make it a point to update our Flickr, Facebook, Twitter, blog, and MySpace accounts 5 days a week, which keeps the content fresh and entices friends to return on a regular basis. By referring users from one social network to another, dropping a photo into Facebook, or guiding Twitter followers back to Flickr, our website, or our blog, we are creating an online buzz for our library that simply did not exist 4 years ago.
With my simple strategy, my daily updates take about 15 to 20 minutes every morning. First, I take a "good morning" photo with an iPhone as I walk into work. Then I download a photo or photoset from Flickr into Blogging LPL; for my blog post I generally let the photo do the talking. Then I cut and paste from Blogging LPL into our MySpace blog. I then compose a quick tweet and include the URL of the Flickr photo. Then I spend a few minutes in Facebook making wall posts that include a photo from Flickr in both LPL's Facebook page and the City of Two Rivers' Facebook page. The results are immediate—after posting a photo's link to Twitter, I return to the photo in Flickr and watch the number of views increase anywhere from 10 to 20 hits.
Also during my morning sessions, I reply to comments that others have posted. It doesn't take long to do and it's important to do that to really be part of the community. Tagging your photos (i.e., adding keywords) is also extremely important. I want my work to be accessible and easy to find. Tagging is easy because Flickr captures the tags you use most often and lets you add them easily to any photo.
I will not deny that getting to this point took many hours of experimentation and exploration, but I want to emphasize that it has been worth every minute. Each time I post a photoset of a Two Rivers event to Flickr, I send an email to all city employees (about 200) with a hotlink to the photos. This becomes viral in our small town very quickly as city staffers send the link to their families and friends.
The Facebook Effect
While Flickr is my bread and butter, Facebook is where you want to be for its exceptional marketing capabilities. If you do only one thing with social networking for your library, create a Facebook account. Facebook is a one-stop network: It acts like a blog, it displays photos and videos, and most importantly, it has more than 400 million users around the globe. Facebook allows you to begin the online conversation about your library with your constituents.
Because of my involvement in social networking over the past few years, I am recognized as a local expert on using social networking as a marketing tool. I not only administer the LPL Facebook page, but I also assist with the administration of the City of Two Rivers Facebook page and the Two Rivers Business Association Facebook page. These added duties raise awareness of LPL across two more online entities.
Proving That Social Networks Are Useful
Make a case for social networking to your administrators. Assure them it is not time wasted. From the marketing point of view alone, it is worth it. When I presented our online existence to the Lester Public Library board of trustees, the responses from the members varied from "What a great way to get the library's message to a new group of potential users!" to "How can you validate this as a true library activity, and when does it become a waste of your time?" By making the board members aware of social networking, I was helping them understand the importance of these technologies as a promotional tool for our services and collections—not just for teens but for all of our users. (As the accompanying blue demographics chart below demonstrates, most of our Facebook friends are between 25 and 54 years old.)
We can help validate our virtual presence on social networks through their online tracking tools. For example, according to stats captured by our blog provider, EngagedPatrons.org, Blogging LPL logs between 11,000 and 17,000 hits a month. The numbers are significant because they rival (and in some months exceed) our monthly door counts.
Facebook reports weekly transactions that tabulate data, including number of visits, new "Likes," and comments. Facebook also provides detailed information about your account, such as who looks in, how often, etc.
In 2009, our circulation increased by 9%; so far in 2010, we are maintaining that increase. Our door counts have increased by 10% through July 2010. LPL is easy to find on the internet and is becoming indispensible not only as an information/entertainment center but also as a community builder for this lakeshore town.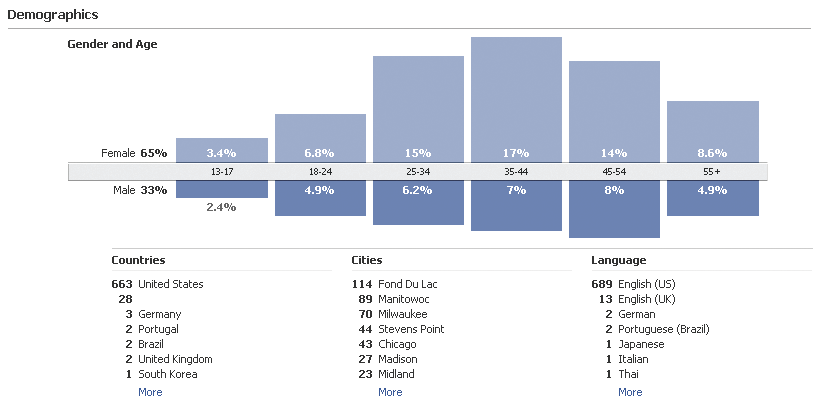 Forging New Networks Can Be Exciting
I find promoting LPL through social networks exciting. There is no instruction manual. While some may find this intimidating, I discovered that it opens the door to infinite possibilities. I do plan and set goals but understand that these goals can change month to month, day to day, and in some cases hour to hour.
It's important to remember that social networking is not the be-all, end-all of our existence. LPL still offers traditional library experiences via our collections, outstanding programming, and quality customer service. Harnessing the power of these social networks goes a long way toward leveraging the future of the Lester Public Library in Two Rivers. We are creating and sharing meaningful electronic content with our community (not to mention the world). There is true power in this sharing—power generated by your local public library.
Social Networking's Impact on Lester Public Library
I have spoken about social networking as a marketing tool to many local, state, and even national organizations. This has placed LPL in front of many decision makers.
It's helped us develop a positive relationship with the city manager and fellow city department heads.
I sit on the Manitowoc County Economical Development Corp.'s marketing committee and the Two Rivers Business Association's board of directors.
It's helped raise the "cool factor" of the library.
It's allowed us to gain national and international recognition.
It's elevated LPL awareness and increased transparency.
It's allowed us to consult with local businesses on social networking possibilities.
It's placed LPL directly into homes on prospective patrons' computers, laptops, handheld devices, etc., reaching a new customer base.
Library staff members have gotten involved. They're experimenting with our website, adding a blog and a Ning page for teens, and capturing local history on video through interviews with senior citizens.
Ultimately, all of this is Lester Public Library's mission in action: Read, Discover, Connect, Enrich.
Links to Photosets
Here are links to the LPL Flickr sets that are mentioned in the text:
This morning from Youth Services
www.flickr.com/photos/lesterpubliclibrary/sets/72157603831234850
Good morning from LPL
www.flickr.com/photos/lesterpubliclibrary/sets/72157613518188017
Library Director as Tourist
www.flickr.com/photos/lesterpubliclibrary/sets/72157600544301502
Find Lester Public Library in the Cloud
Flickr: www.flickr.com/photos/lesterpubliclibrary
Facebook: www.facebook.com/LesterLibrary
Facebook: www.facebook.com/pages/Two-Rivers-WI/Two-Rivers-WI/104580897190
Twitter: http://twitter.com/lesterpublic
Blogging LPL: http://engagedpatrons.org/Blogs.cfm?siteID=4030&BlogID=142
Teen Blog: www.lplteen1001.blogspot.com
MySpace: www.myspace.com/lesterpubliclibrary
YouTube: www.youtube.com/lesterlibrary