Vol. 20 No. 6 — Nov./Dec. 2006

How-To
How We Won a Creative Promotions Award from the Medical Library Association
By Pat Higginbottom
---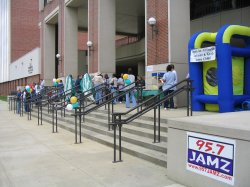 CLICK FOR LARGER IMAGE

If you are willing to try new ways to connect with your users, sometimes great things happen. That's how it worked here at Lister Hill Library (LHL), a medical library that's part of the University of Alabama–Birmingham. In October 2005, we celebrated National Medical Librarians Month (NMLM) in a big way, then entered the Medical Library Association's Creative Promotions Award contest—and won first place!

Last fall, to celebrate NMLM, our staff planned a busy schedule of activities to promote our library and our profession. We began with five goals in mind: 1) to get our staff in­volved, 2) to target different library user groups, 3) to highlight our staff, 4) to generate goodwill with our users, and 5) to teach our users something new.

We've become more focused on reaching out to our users in the last several years as we've seen the success of making resources and services available outside of the building. While we practice this outreach year-round, activities for National Library Week and National Medical Librarians Month have taken on a lot of significance.

We put out a call for volunteers as planning for the monthlong celebration began back in June, and pulled a group of about 15 faculty and staff together for a brainstorming meeting. Most ideas made the list in one form or another, and the volunteers chose how they wanted to help. One or two people were given responsibility for each activity and others helped with either planning or execution. Since I'm the librarian in charge of public services, I served as the coordinator of the overall project.

We wanted to plan things faculty might be interested in and other things students might want to do, though we saw plenty of overlap in the end. Some activities were available for those users who never come to the library, while others encouraged people to stop by and visit. One of the things that makes October work so well for us is that our university celebrates homecoming then and we can roll those events into our plan.
What Activities and Events Did We Plan?
We always spotlight a Resource of the Month, describing the product, how it can be used, and its benefits via a Web page. To get the staff members involved in NMLM and to highlight their skills and services, we selected the LHL staff as the October Resource of the Month. In this case, we listed each library unit, showed a picture of its members, and described how they help users. In addition to the Web site, we also put up a display of the photos and information in our building.
Homecoming also got the staff involved. Besides the usual decorations and activities, the librarians elected a Mr. & Ms. Lister Hill Library, our variation of a homecoming king and queen, to represent us while the administrators judged the decorations. That led to a photo opp with the university president.
To connect with users in person we scheduled several different events; the largest was lunch on the plaza in front of the library. Restaurants around the university donated food and prizes, and for about 4 hours we manned tables outside, handing out food, drinks, and library materials to 300 to 400 people. A local radio station showed up and blasted music, which helped draw a crowd. To keep the connection with the people who attended, we asked them to sign up for our "E-news" list. Many were on the list already, but we signed up 122 new members. We awarded prizes such as restaurant gift certificates to randomly drawn names from the sign-up slips.
Another way we drew people into the building was to offer coupons on the library Web site. Those who could find and print the coupons could redeem them at the library for a study snack, free copy card, $5 off a fine or library bill, or free document delivery. While we only had about 50 coupons redeemed, the feedback was very positive.
To target our remote users, we scheduled times to take our popcorn machine and canned drinks to their building, and we gave those away with library handouts. We went to four different areas throughout the month. The smell of fresh-popped popcorn certainly draws people out of their offices!
Lastly, to encourage users to link their intranets to the library's Web site or to the LHL Ask-a-Librarian page, we asked anyone who set up those links to contact us. We gathered their names and added those of anyone who'd requested a class or library orientation for their group during the month. We drew names and awarded those winners with office parties—we delivered cake and ice cream to their group. We had three parties from that promotion. Attendees were thrilled with their parties and there have been lots of people who've asked us about the event based on the raves from the recipients.
How We Promoted and Paid for Things
To let our users know about the events, we developed a Web site with information about activities, then updated it with photos after the events. We purchased a big banner about National Medical Librarians Month (from a local vender for a couple of hundred dollars) and hung it from our balcony all month. Our staff members have T-shirts with the library Web page on them and wore them often during the month.
Through all of our outreach, some things have worked well and some haven't. We don't get discouraged from those failed attempts; we evaluate how people respond to events and move on, maybe to try again, maybe to try something different.
We're lucky that our library director understands the importance—the necessity, really—of outreach to users. Since we are very frugal in many ways, he has been extremely supportive of our spending on promo efforts. We also have some money in our budget that we can use for out-of-the-ordinary things—like a popcorn machine!
We felt so successful that, after NMLM 2005 was over, we entered MLA's Creative Promo­tions Award contest by simply compiling our information into a PowerPoint presentation and e-mailing it to MLA head­quarters. In January 2006, we found out we'd won first place! Lister Hill Library received $200 worth of MLA money along with kudos from our peers. We have also used the award to further publicize the library and have had a nice article about it in the university paper.
From my experiences, I'd advise my peers to be open-minded, creative, and ready for fun. And I encourage other MLA members to enter this year's contest!