FEATURE
Kahn: The ProQuest Vision

by Barbara Brynko
---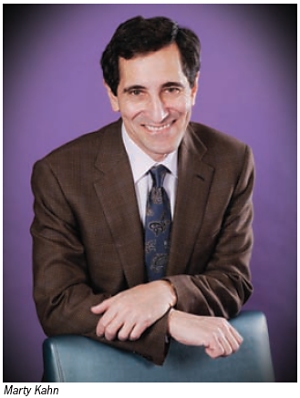 As a key player in the information industry, ProQuest needs little introduction. In serving a growing global audience with its suite of products and services, ProQuest views itself more as an information partner than a content provider or aggregator in today's marketplace.

CEO Marty Kahn keeps the company mission and vision in plain view. "Our mission is to create indispensable research solutions that connect people and information," says Kahn, "and our vision is to be central to research around the world." Kahn stepped into the CEO position in 2007, when the Cambridge Information Group (CIG) acquired ProQuest Information and Learning and created a privately held company that was first called ProQuest-CSA.

"In 2007, we sat down and spent a lot of time with the management team, directors, outside constituents, librarians, faculty members, and others who were a part of the process," he says. "And we thought about our mission and vision." Within the year, the company had branded itself simply as ProQuest, following a mission and vision that provided "a guidepost for what we wanted to do," he says.
Building a Power Base
ProQuest's very foundation is rooted in power, literally—a man named Eugene B. Power. Power established University Microfilms in 1938, which is when ProQuest's timeline begins. In the 73 years that followed, the company has weathered wars, economic upturns and downturns, and countless acquisitions to rise to its stature as a global information leader with a who's who of library brands: UMI, Chadwyck-Healey, SIRS Publishing, eLibrary, Serials Solutions, Ulrich's, RefWorks, COS, Dialog, and Bowker.
And the acquisitions keep coming. In late 2010, ProQuest acquired Congressional Information Service (CIS) and University Publications of America (UPA) from LexisNexis, which "fit exceptionally well in the ProQuest family," says Kahn. This online legislative and statistical content is considered to be a staple in academic, public, and government libraries. "It was always a bit of a stepchild for LexisNexis," says Kahn, who recalled the company changing hands when Elsevier acquired it in 1979, after which it was moved to the LexisNexis side of the business. He says that ProQuest won't be making a big push to cover the legal market but will continue to provide a range of information to the corporate market.
On the heels of the CIS acquisition, ProQuest also announced its acquisition of ebrary at the ALA Meeting in San Diego in early January. "We were lagging a bit on ebooks and in deciding what to do about it," says Kahn. Then, the world of ebooks exploded, and everyone including academic libraries wanted to get on board. Kahn says ProQuest was fortunate enough to acquire the leading company in the space and keep ebrary's founders, Christopher Warnock and Kevin Sayar, on the team. "They are sticking with us," says Kahn. "If they weren't committed to this, we would not have done the deal."
But Kahn stopped to put the acquisition in context. "The acquisition of ebrary was not by any means just to keep up," he says. "It was really much more about acquiring a team of people who would allow us to get out in the forefront of how to present 'the long argument,' or however we can define a book these days in a digital world."
From Silos to Single Search
ProQuest has kept pace with rapidly emerging technologies by broadening the depth and breadth of its offerings. With the company's long history of M&As, its product lines and functionality was seeing some signs of age and a bit of disconnect. "All the things that you'd expect to have in a product, we didn't necessarily have," he says. "Our interfaces went back to the beginning of the decade," and it was simply time to update the products and streamline the workflow.
So Kahn says the development team went back to the drawing board. The brainstorming and innovation resulted in two big rollouts. The first was in 2009 with the debut of Summon, a web-scale discovery service from Serials Solutions, a business unit of ProQuest, LLC, that offers the user instant access to a library's collections with a single search. Summon simply exceeded all expectations, he says: "Think about it as Google Scholar for libraries, optimized for serious academic research."
The second rollout was the all-new ProQuest platform that only a few hundred schools are now using. "We wanted to do this as a very measured release because we wanted to get more people to cross over and to make sure that it works perfectly," says Kahn. Customers had been searching all the databases on completely different platforms, using completely different institutional repositories. "We were one company, but from a user's point of view, we might have been four different companies," he says. "The creation of a single repository for personal discovery has been such a big change … it's a completely new user experience rolled into a 21st century interface." Likewise, ProQuest also has begun the process of rolling out a newly enhanced DataStar and Dialog on an all-new platform for corporate users, which took 18 months to complete.
Outsell, Inc. vice president and lead analyst Ned May wrote in Insights in September 2010 about ProQuest's ability to navigate change: "Interfaces must be both robust yet simple to use. This is a task that may be easily defined but proper execution takes time. In ProQuest's case, this meant 18 months of work to get it right. … But getting it right or close to right will be a key element in what sets premium products apart from what is available for free on the open web, so it is a necessary investment to make."
Charting a Steady Course
Kahn is keen on making the right investments and is methodical in his approach to change and product modification. He's dedicated to a steady course of action and ensuring that haste doesn't impair quality. Kahn's wealth of experience has undoubtedly tempered his point of view: an M.B.A. from Harvard Business School and a B.A. from Yale College, before launching his career as president of BRS Information Technologies, general manager of the health professions division of McGraw-Hill, and vice president of sales and marketing at the W.B. Saunders Co. He also was chairman of the boards of directors of OneSource Information Services, Inc.; Ovid Technologies, Inc.; and Vista Information Solutions.
"It will take most of 2011 until we're able to go through the process of bringing all of the users on board," he says. "We're going to be making much more of an effort to be more visible, especially when Dialog databases and Dialog users make more use of traditional ProQuest products, which will all be on the same platform," he says. Such complementary services take time and energy for such an information partner.
"Our job is not going to be to provide all the content," he says. "We want to help our users find the very best content and then direct them to where they belong. Like our discovery products, it's really about handling someone as quickly as possible, just like Google. You get in, you get out, then you may go to Elsevier, or Gale, or to a government dataset."
At the heart of ProQuest's corporate mantra is quality content and happy customers. "We have ample resources to do what we need to do, and we are committed to recognizing that this is a multiyear undertaking," says Kahn. "We have to achieve our financial goals every year just like everyone else, but Bob and Andy Snyder and their CIG team are committed to making it happen."
Taking Care of the End Users
It's been said that the only certainty in life is change, and over the years, ProQuest has been responsive to the needs of the end users. The ProQuest team has spent time thinking about personas, such as the biochemist working at Pfizer, or a 19-year-old writing his first research paper, or a sophomore at Colby College who is a very sophisticated researcher in the humanities, says Kahn. "We worry how young researchers are thinking about mediated primary information and the relevance of articles and monographs," he says.

"We're going to rise or fall on what happens to libraries," he says. "We are utterly committed to serving the end users and serving them through libraries." But he still sees budget problems as one of the key factors limiting the effectiveness of libraries today. "Our real challenge lies in the bigger perspective of helping libraries keep an eye out on what their patrons really need and want," he says. "It's a tricky balance, but we're in this together."