The Only Internet Conference Designed Specifically for Librarians and Information Managers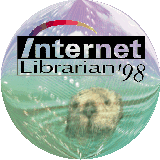 Conference Overview
---
We are pleased to present the second annual Internet Librarian — the ONLY conference for information professionals who are using, developing and embracing Internet, Intranet, and Web-based strategies in their roles as information searchers, guides, webmasters and web managers, content evaluators, product developers, and more. As the premier tools for information managers and librarians, Internet technologies are the focus of this conference. It provides an active forum for our excellent speakers to explore the many and exciting ranges of issues and challenges facing information professionals today.
Program Chair

Jane I. Dysart

Dysart & Jones Associates

Organizing/Review Committee

D. Scott Brandt

Purdue University Libraries

Pamela Cibbarelli

Cibbarelli's

Monica Ertel

Consultant, Query

Richard Geiger

San Francisco Chronicle

Doris Helfer

California State University

Richard Hulser

IBM Corporation

Walt Howe

Delphi Internet Services Corp.

Barbara Quint

Editor-in-Chief, Searcher

Lauri Shafer

Microsoft Corp.

Hope Tillman

Babson College
The second annual Internet Librarian is a mixture of leading edge ideas and tools as well as exciting new services'all focused on information professionals and Internet related technologies. It features over 100 dynamic speakers in three simultaneous tracks plus 24 workshops, two evening sessions, and the new Internet@Schools '98 conference within a conference. Internet Librarian '98 covers metadata and Web tools, online and the Net, Internet and Intranet content, creating Web sites, Intranet case studies, managing knowledge assets, training and instruction, virtual services, digitizing resources, infrastructure, Web management, Net trends, and more. Catering to leaders and learners, Internet Librarian '98 will be of interest to all information professionals.

Internet Librarians in Action and the Southern California's Online User Group's Open Forum: Talk Back To The Net take place Monday and Tuesday evenings from 7:30 to 9 pm. These two programs are open to all attendees, exhibitors, and exhibit hall pass holders.

Information Today invites all registrants, exhibitors, and exhibition visitors to receptions on Tuesday and Wednesday evenings. They provide opportunities to renew acquaintances and meet new colleagues in a relaxed atmosphere. For further networking opportunities sign up in the registration area for our Dine Around groups.

The Internet Librarian '98 exhibition will feature over 100 booths offering the visitor a choice of products covering aspects of Internet, Intranet and library technology including search engines, software, document delivery and web delivery systems, online services, content providers, and more. If you are looking for Internet/intranet solutions, evaluating competing systems, keeping up-to-date with the newest 'Net products and developments, be sure to visit the Internet Librarian '98 exhibition.

Pre-conference workshops are offered on Sunday, November 1 and Monday, November 2. They cover topics such as: Competitive Intelligence and the Net, Advanced Net Training Techniques, Knowledge Management, Current Awareness on the Net, Intranet Development, Searching the Net for Reference Answers, De-mystifying Technology, Content Acquisition Strategies, Advanced Web Searching, Managing Electronic Journals, Web Resource Roundtables, Web Authoring, Search Engines, and more. For a complete listing of these in-depth continuing education opportunities, click here.

This day-long event is being held on Monday, November 2, and focuses on the impact of the Internet on K-12 librarians, media specialists, and technology coordinators. This vital, first-ever conference requires separate registration and may be bundled with an Internet Librarian '98 registration. Click here (also see the registration form) for more information.

The First Internet Librarian Golf Classic

Join us for the first Internet Librarian Golf Classic being held at the Quail Lodge Resort and Golf Club in Carmel. This tournament, sponsored by IAC, West Group, and Information Today will be held on Friday, November 6th. The golf tournament co-sponsors are contributing $100 per player plus prizes, making your participation fee just $65. Act quickly, because space is limited to the first 40 golfers! Lots of fun and prizes. For more information, contact Kathy Bayer by phone at 609-654-6266 or by e-mail at khbayer@infotoday.com.



---
Information Today, Inc.
143 Old Marlton Pike, Medford, NJ 08055-8750
609/654-6266; FAX: 609/654-4309
E-mail: custserv@infotoday.com
---