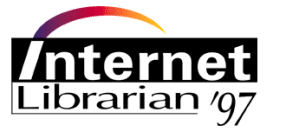 PostConference Workshops
Thursday, November 20th
---
Workshop 13



9:00am - 4:30pm
Building the Corporate INTRANET Knowledge Center
Howard McQueen, McQueen & Associates
Web Site: http://www.mcq.com/intranet.htm

An Intranet should provide seamless access to a variety of information resources crucial to the success of the organization. From an information management perspective, this seminar examines the conceptual and proven technologies that organizations are using to build Intranets; from crucial planning considerations; to types of people skills and expertise required; to technical challenges.

Learn about Groupware applications (forums & interactive discussions) that enhance communication and virtual workgroups. Middleware applications are explored as tools which provide users with a Web front-end to databases. Also learn how CD-ROMs can be accessed from the Web page.

It is our belief that the Search Engine is the "corporate brain" of the Intranet. If a non-Information Specialist cannot easily gain access to relevant information, the Intranet cannot be considered a true success. We explore the various methodologies of search engine technology and cut through the hype to reveal the subtle, yet very important differences between the major players in this growing market.

To play an integral role in the design, implementation and/or on-going enhancement to your organization's Intranet, this seminar is a must!




Workshop 14



9:00am - 12:00pm
Java: An Under the Hood View
Darren Gibbons, CEO, OpenRoad Communications
Slides: http://www.oroad.com/il/javapres.ppt

This half day session will take at look at one of the Internet's hottest but least understood buzzwords -- Java. Meant as an introduction to the topic, the session will provide an overview of Java, its place in the Internet and Intranet, and focus on how Java will change the future of information management and retrieval. Gibbons will be your entertaining guide while looking under the hood of Java and helping you learn how to create and use applets. Don't worry though, you don't need any previous programming experience!




Workshop 15



9:00am - 12:00pm
Choosing Appropriate Internet Technologies
Richard Wiggins, Michigan State University & author of Internet for Everyone

Today libraries face a panoply of choices among Internet technologies as they meet the online information needs of their clients. Wiggins surveys the range of technologies from Web site management tools to Java to Web server middleware to audio/video streaming to "push", offering a road map for choosing appropriate technologies for your institution. As an author and trainer who specializes in Internet topics, Wiggins writes for publications such as New Media and Internet World, and is on the editorial board of First Monday. He also hosts a television show for Media One called Nothin' but Net. Come, learn and ask questions!




Workshop 16



1:30pm - 4:30pm
Multimedia, VRML and Information Management
Dave Parchomchuk, Principal, OpenRoad Communications

What does the current wave of multimedia technology mean to information seekers and managers on the Internet? We know that we human beings respond very well to visual cues, so how can we harness all the exciting new tools and techniques for maximum benefit? In this half day session, Parchomchuk will explore topics relating to multimedia and information management: multimedia defined & it's historical perspective; current & future generation multimedia tools, their applications and implications; effective use of multimedia; Virtual Reality Modelling Language (VRML), and its use in information presentation; the future of multimedia on the World Wide Web; as well as lots of multimedia examples and demonstrations.




Workshop 17



1:30pm - 4:30pm
Creating Secure Library Networks: Issues and Technologies
Marshall Breeding, Vanderbilt University

As libraries connect to the Internet, they must make sure that their networks are well-secured. This half day workshop focuses on security issues related to library networks. It discusses the various approaches to network security and presents options for libraries so that when they connect to the Internet they can ensure the safety of their data and other computer resources. Breeding examines different network architectures and their security implications and presents information on a number of types of network firewalls as well as other devices and technologies that enhance network security. The workshop will include advice on the policies and practices that are consistent with security concerns.
---

Internet Librarian '97 Home Page