FEATURE
Unlocking the Vault: Sharing Special Collections on Social Media

by Ashley Augustyniak and Victoria Orzechowski
---
The increasingly digital nature of our world necessitates that special collections institutions find ways to enhance the discoverability and accessibility of their collections. Social media affords one such opportunity.

The Donald F. and Mildred Topp Othmer Library of Chemical History at the Chemical Heritage Foundation is a research library in Philadelphia. Its collections encompass the history of science, with an emphasis on chemistry. They span 7 centuries, from 15th-century alchemical manuscripts to the oral histories of today's scientists. With modern books and journals, rare books and manuscripts, archival materials, historical photographs, moving images, and oral histories, the library is an unrivaled resource for the history of chemistry and related sciences. Our patrons are accomplished researchers who travel from all over the world to use these collections.

The library staff became interested in social media as a way to interact with these far-flung researchers as well as to share our collections with any audience that has a serious or passing interest in science. As with many niche collections, we often feel the best way to describe our library is to show our collection. However, beyond our OPAC, we had no digital library nor any other meaningful web presence for the collections. Our closed-stacks system keeps our collections secure, but physical restrictions can act as a lock and key on serendipity. We wanted to support our researchers, presenting them with another layer of discovery by peeking at the less-searchable visual content inside our books and boxes. Social media is a venue for us to share our collections for which an audience is present and ready to consume.

The Othmer Library started first on Tumblr with its blog, Othmeralia, in 2014 and expanded to Pinterest in 2016. On Tumblr, we found an active community of other libraries and bibliophiles, which was perfect since we did not want to merely display content, but invite dialogue. We expanded to Pinterest to showcase even more of the images in our collection and assemble them into creative, unconventional themes that could boost discovery in underused areas of the collection and expand audience perception of our overall collections. We also cross-post on our parent organization's multiple platforms, including Twitter, Facebook, and Instagram. In this article, we will discuss the logistics of our social media presence and how our small special collections library amassed a following of more than 15,000.

This screenshot of our Pinterest boards shows the variety of content we put on social media and the unconventional sets that can appeal to an audience with, such as Second Hand Science and Vintage Recipes: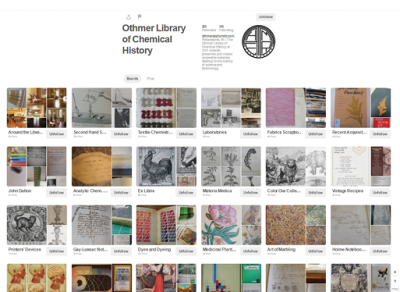 Strong Images Make for Successful Social Media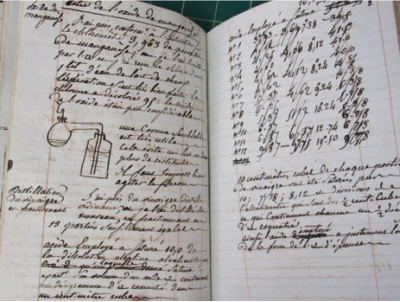 Here's one of the library's collection items that was well-received on social media. This notebook describes more than 200 experiments undertaken by Gay-Lussac at the École Polytechnique, where he was a professor. (Manuscript Laboratory Notebook of Louis Joseph Gay-Lussac, 1820–1825, Donald F. and Mildred Topp Othmer Library of Chemical History's Archives)
This scrapbook (1934–1942) containing 15 mounted woven
samples made from synthetic fibers was featured on multiple social media accounts almost immediately after its processing was completed by the Donald F. and Mildred Topp Othmer Library of Chemical History's senior archivist—enhancing the material's discoverability and accessibility. (A Collection of Selected Fabrics Woven by George Manton, Donald F. and Mildred Topp Othmer Library of Chemical History's Archives)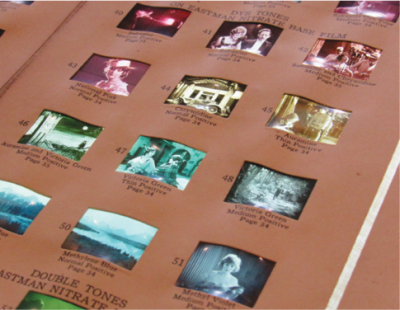 Originally shared on Othmeralia for their beauty and excellent condition, the samples that make up this 1927 work, Tinting and Toning of Eastman Positive Motion Picture Film, sparked a larger discussion on Tumblr about the care of nitrate-based film, a potential fire hazard, in special collections institutions.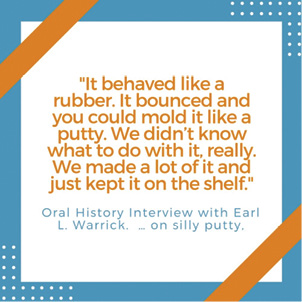 An example of text content made visual using Canva (excerpt from page 22 of the Oral History Interview With Earl L. Warrick, 1986 January 16; Philadelphia: Chemical Heritage Foundation, Oral History Transcript 0045)
Working as a Team
Social media is all about relationships online and off. The value of collaboration cannot be overstated nor can the significance of relinquishing some control to colleagues and interns. Our library's social media is a collaborative effort consisting of librarians and archivists and an occasional intern. The variety of colleagues' viewpoints is important to show the diverse nature of our library and to connect to a range of audiences. Every voice in our library is essential—from interns and para-professionals to management—since each has unique responsibilities and levels of access to the collections and patrons. Although it is a team effort, it is important to have one administrator at the helm with the responsibility of making sure objectives are created and achieved.
A successful administrator will balance support and allocation with his or her team. Encouraging members to use time-management skills while working at their own pace can keep the sense of burden low and help the team find personal time solutions. We have contributors who create posts only periodically when they find something of interest in the collections, but there are others who schedule an hour or 2 a week to create a few posts. Some time management is a reflection of personal work style, while other situations are because of confines in job responsibilities.
Planning for Social Media
Whether there's a team of one or many, set aside a little planning time to plot an upcoming calendar. Some calendars offer more functionality than others, such as the ability to share it with a team and assign tasks, get reminders, mark tasks as finished, or archive ideas for subsequent years. Our hour-long planning meetings are organized monthly and make use of project management tools such as Trello to assign dates, send reminders, and brainstorm ideas. Trello is based on the Kanban principles of separating tasks down from board to lists to cards so that each is manageable and tracked. We created a board for our Tumblr blog containing Lists for Current Month's Posts, Completed Posts, and future months for advanced planning. A card is created for each planned post that can be assigned, labeled, commented on, and set to send auto notifications. When the related content has been created, the card is moved to the completed list. At the end of every month, the completed list is archived so that we can review it the next year. We use the label capability to track the theme of a post, allowing us to visualize that we have planned a variety of content (i.e., Fun Day, Historical Date). We diversify post themes because a barrage of similar posts seems to desensitize the online audience to individual posts. We try not to make our calendar system too complicated to avoid discouraging group members from participating.
Not every day or post is prearranged, leaving plenty of room for spontaneity. Topics on social media can be fleeting. If a pop culture moment is happening, and you have something from your collection to add to the conversation, then by all means drop what is planned and go with the flow. We also keep our draft folder stocked with filler posts that do not correlate to a specific date and can be posted on unplanned days or when the library gets too busy to fuss with social media. Draft, queue, and secret mode features in the different social media platforms are useful to build a surplus of content.
Selecting the Best Social Media Platform for Your Content
As we refined our social media planning process, it became clear that the manner in which we presented our content on various platforms needed careful consideration. Although instantaneous cross-posting options were available, we realized that simply sharing the same content across multiple social media platforms without editing its presentation would not make for a very enriching or worthwhile experience for the users we were trying to engage. Each platform and its user community have specific expectations and standards when it comes to posts. For our work, this meant that while a lengthy post discussing the history of a particular bookplate found in our library's collections would be well-received on Tumblr, it would not be acceptable for Twitter (on which 140 characters is all the real estate that's granted for content) or on Pinterest (where images with succinct keyword-rich descriptions are optimal).
Creating a meaningful social media presence for the library requires us to tailor content to each platform. Instead of generating new content for each and every social media site, we find ways to repurpose content from one platform to another. As such, we have developed a variety of presentation styles for our content. In terms of text, these styles range from long essays to short, clever prose. Each post is accompanied by relevant bibliographic information and includes a link to our online catalog. Providing this link is an extra step that gives interested users more details about a resource as well as another means of contacting library staff. Additionally, hashtags are used in posts to make content more discoverable and accessible. Library and/or project-specific hashtags (e.g., #OthmerLibrary) are used in order to track the reach of posts and aggregate content into feeds for institutional websites and the library's libguides.
Along with varying the length of our text, we strive to have at least one compelling visual for our social media posts. Increasingly, institutional success on social media is a matter of finding the right visual content that will convey your mission and stir emotions, stimulating conversations among users about the work your institution undertakes. An image will gain users' attention and, most importantly, foster enthusiasm and dialogue about the Othmer Library and its collections and services.
The visual component of our posts takes on myriad forms. A single image or a collage is the most commonly employed in our posts for several reasons. For archival images already digitized and accessible/searchable via an in-house database, selecting one or more of them and adding them to a post is not too demanding on staff time. For items that have not been digitized, staffers are able to retrieve the item(s) and use their own readily available smartphones or the library's digital camera to quickly take an image or two to accompany their post. (The digital camera the library uses is a Canon PowerShot SX530 HS.) These devices are useful for capturing spur-of-the-moment photos of library spaces, including storage areas, and collections-processing efforts for behind-the-scenes posts that are ideal for Insta­gram and Tumblr, given their strong and supportive bibliophile communities.
The popular animated GIF is another engaging visual we use in our social media posts. Illustrations and photos from our library and archives collections are edited by our social media team members using Photoshop Elements to bring life and a touch of whimsy to otherwise static entities. Likewise, we employ PowerPoint and Canva, an online graphic design tool, to present collections content in innovative ways, such as infographics, quotes, and recipe cards. This involves taking straightforward information from our collections—in these cases facts or steps in historical recipes—and transforming it into aesthetically pleasing designs that elicit user response.
Growing Your Network
Our initial foray into social media taught us that even the most well-written, visually stunning post will go nowhere if user support for the content is lacking or absent. Social media success does not occur within a vacuum. The impact and longevity of an institution's posts depend heavily on having content Liked and shared by other users. These actions are helped along when an institution is truly active on a platform (i.e., dedicating time to engaging with others in the platform's community).
To this end, we endeavor to make the Othmer Library's social media presence as interactive as possible. We invite users to leave comments and/or questions on posts or in messages, and we respond to them promptly. We encourage feedback by posing trivia questions in our posts, holding photo caption contests for materials in our collections, and asking users directly what types of content they would like to see. We participate in group boards on Pinterest, library-specific Instagram challenges, and larger social media initiatives such as the #ColorOurCollections campaign led by the New York Academy of Medicine. We also purposefully share content from other users, institutions, and individuals on our platforms in order to communicate our presence to wider audiences, strengthen our network ties, and bring our followers quality curated content. These community-building activities make the library accessible and enable connections with users who in turn spread the library's content and message.
Measuring Success
As with any library program, social media efforts must be evaluated for their effectiveness and usefulness in supporting the library's mission. Regular evaluation assists the library in identifying popular content and conversations on social media as well as areas (e.g., content or planning strategies) in need of improvement. To ensure that our evaluation was as complete as possible, we developed a method whereby relevant quantitative and qualitative metrics are compiled into a formal monthly report. Metrics are gathered through a combination of platform-specific tools and third-party products, such as Google Analytics. The hard numbers collected contain the number of followers, number of posts, number of clicks, and pages viewed per session. Qualitative measures encompass the range of behaviors exhibited by users, including Likes, comments, messages, shares, and mentions of the library's content on other websites.
Conclusion
The increasingly digital nature of our world necessitates that special collections institutions find ways to enhance the discoverability and accessibility of their collections. Social media affords one such opportunity. However, as our experience at the Othmer Library demonstrates, institutional social media demands careful preparation and execution in order to be successful. Teamwork, content planning, network building, and evaluation are all integral to the process of creating engaging social media content that inspires audiences to connect with the library and make use of its materials and services.
Resources
Garner, A., Goldberg, J., and Pou, R. (2016). "Collaborative Social Media Campaigns and Special Collections: A Case Study on #ColorOurCollections," RBM: A Journal of Rare Books, Manuscripts, and Cultural Heritage, Vol. 17, No. 2, pp. 100–117.
Heyliger, S., McLoone, J., and Thomas, N. (2013). "Making Connections: A Survey of Special Collections' Social Media Outreach," The American Archivist, Vol. 76, No. 2, pp. 374–414.
Kreisberg, A. (2014). "Increasing Access in 140 Characters or Less: Or, What Are Archival Institutions Doing on Twitter?" The American Archivist, Vol. 77, No. 2, pp. 534–557.
Shulman, J., Yep, J., and Tome, D. (2015). "Leveraging the Power of a Twitter Network for Library Promotion," The Journal of Academic Librarianship, Vol. 41, No. 2, pp. 178–185.
Solomon, L. (2013). The Librarian's Nitty-Gritty Guide to Social Media. Chicago: ALA Editions.
Solomon, L. (2016). The Librarian's Nitty-Gritty Guide to Content Marketing. Chicago: ALA Editions.
Welch, A. (2014). "Tumblr: Extending the Reach of Library Websites," Computers in Libraries, Vol. 34, No. 7, pp. 6–10.
Williamson, F., Vieira, S., and Williamson, J. (2015). "Marketing Finding Aids on Social Media: What Worked and What Didn't Work," The American Archivist, Vol. 78, No. 2, pp. 488–513.