• UPDATE •
The Washington State Library Is Saved!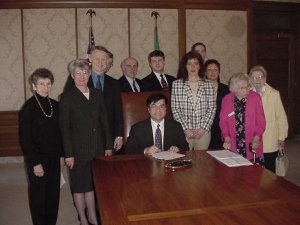 On Wednesday, April 3, Washington Governor Gary Locke, (middle) signs the papers that save the Washington State Library. Locke is surrounded by those involved: Nancy Zussy, State Librarian (third from right, in background), Sam Reed, Secretary of State (third from left), Anne Haley, State Library Commissioner (second from left), and others.
On April 3rd, Governor Gary Locke signed House Bill #2926 transferring the Washington State Library to the Office of the Secretary of State, thus effectively removing the threat of its permanent closure. Although the library will endure a spending cut along with other State Departments, it has survived.

An extensive lobbying campaign was spearheaded by the Washington Library Association, the State Library Commission, and Washington State Directors, along with State Library staff, and librarians throughout the state and beyond. They effectively got the message across to members of both the House and the Senate that the State Library is unique and irreplaceable, and performs valuable services for state government, other libraries, and citizens of the state of Washington. Both the House and the Senate voted by solid margins for the "transfer" of the library to the Secretary of State, an avowed library supporter.
---
Photo by Patrick McDonald
---
Washington state's "education governor," Gary Locke, has decided to close the Washington State Library. Faced with a $1.2 billion shortfall, the governor is looking to balance the budget by cutting $9 million, the entire State Library budget. He told the staff himself. He basically told them to pack up and get out. If they didn't pack up, then they could just get out. When someone pointed out that this would make Washington the only state without a State Library, he corrected the impression: It would be only the first state without a State Library.

Locke is not alone in thinking the library irrelevant. When talking with a library staff member, one legislator said he never used the library anymore because everything was online anyway. When asked how he got his online information he proudly showed how he could go to the "Find-It" Web site and get everything he needed. This is a Government Information Locator Service (GILS), so that's probably true. However, Find-It was invented, funded, and is run by the Washington State Library. We don't need a library; we just need the things that libraries do to be done.


Have We Totally Cracked?
The Washington State Library was founded in 1853 as one of the provisions of the Act of Territory. When the capitol campus was finished, the State Library was situated directly across from the Capitol building itself as an integral part of state government operations. This is prime political real estate. Last spring we had a rather large earthquake. [See my column in the May 2001 issue, page 46.] I think they've decided it was a 7.2 where, miraculously, no one was killed. With the epicenter near the capitol in Olympia, the government campus took quite a jolt. Apparently the dome actually lifted off the building and rotated a few inches before settling back down. Large cracks appeared and the Capitol building was evacuated. Damage in Olympia (and Seattle) was very apparent. Several old brick buildings toppled.

Too many bureaucrats now had a steep incentive to covet the library space, so a few months later the library moved, lock, stock, barrel, and books, to a commercial building in South Olympia, a "temporary" facility (though most librarians did not fully appreciate the use of the word), for $75,000 per month. This is a long-term lease. The governor's office says that the building will be used because the state will be in need of additional office space. Since the $9 million saved by closing the library doesn't make much of a dent in the billion-dollar shortfall, one wonders: Just who will be left to occupy that building?

As an institution that's been in place just shy of 150 years, this is not the first time the State Library has experienced cutbacks and shortfalls. The state managed to hang onto the library through the Great Depression, not to mention depressions and recessions dating from the post-Civil War era until today. What's different this time is that we have people who actually believe the library is irrelevant because, well, we have this Internet thing and everything is available online.

I've written about this over the years, including an article many years ago in these pages postulating the closure of Seattle Public in 2025, just for this reason. Every time I mention this dismal scenario someone writes to me to assure me that I have it all wrong and that books will be with us for a very long time. They may very well be, but unless we in this state are particularly effective over the next few months, the State Library closes for good. If it actually doesn't close, the sentiment that it should will still be there among people who really should know better. This is a living, breathing example where 170 people will lose their jobs and a state will lose access to a couple million historical books and materials not duplicated anywhere else and certainly not "available online."


Doing the Greater Good: Maybe a Bit Too Quietly?
The fact is, the State Library, composed of very few people, does a great deal of good statewide, not only for legislators who don't even seem to know it, but for state government, and for public libraries statewide, especially small ones. In the realm of technology the State Library has been a clear leader and, I admit, technically savvy, though I just can't resist saying, "at last!" Moreover, its channeling of LSCA and LSTA funding, not to mention e-rate, has put millions of dollars of technology into public libraries, including our own. It paid for placing dumb terminals from our old Geac system (the original Deep Thought) into high schools. It paid for our first dial-in modem. It paid the start-up costs for LinkNet. It spearheaded a training program whereby any IT person in the state could get official technical training for any Microsoft certification, Cisco, Dreamweaver, you name it, for one-fourth the usual cost. These courses typically go for $2,000 per week. Through the state you could get them for $500. What was formerly out of reach for all but the largest libraries suddenly became available for everyone.

For smaller libraries, it has done even more. Those libraries don't have IT staffs. Many of them are not automated at all. Yet the State Library took care of funding, installing, and training for all libraries that would accept the graphical Internet service. Then the State Library turned around and formed a statewide database consortium, held an ongoing competition among vendors, and managed to get a slew of full-text databases available to every library in the state at vastly reduced prices. But now, because of the way federal matching funds work, we will likely lose $3 million per year in federal funds in addition to the State Library itself.

The State Library also helps small libraries by hosting listservs and Web sites; thus, when you go to Podunk.lib.wa.us, behind those modern Web screens is the State Library, invisible, perhaps uncredited, but making it all possible. In another move the State Library made it possible for all public libraries to join the "K20 Network" for schools and colleges, thus reducing our ISP charges by half. Without the leadership of the State Library, none of this would have happened.

To some extent this is a marketing issue. Librarians are not in the habit of standing on podiums and shouting their own praises. Also, libraries are not enjoying the best of the public spotlight with groups seeking to filter library computers from the Internet. I suspect the filter-seekers are somewhat gleeful at this, for a loss of our freedom means a gain in their attempts to restrict our lives.

It's beyond the scope of this article to detail the reductions in other areas, including state institution service and the 2-million-volume collection, irreplaceable and not duplicated anywhere else. The governor has not detailed how any of this collection can be taken by other agencies, most likely because it can't be done. Even the state's academic libraries have no room, budget, or people to take on a collection of 2 million volumes. The whole story is at http://www.statelib.wa.gov. This is a penny-wise and pound-foolish attempt that won't solve anyone's problems. It's been said that your life and property are always in danger while the legislature is in session. Apparently also, for libraries, while this governor is in office.


What Will Become of Our Beloved State Library?
One of the problems with the Washington State Library is that it is very independent. It does not belong to any other department that might be able to shield it from scrutiny. Instead, it hangs out there, governed by a Library Commission and quite visible as a $9 million low-hanging fruit during this budget crisis. Unlike most other states, Washington has no funding in place for public libraries at all; therefore, there is no underlying infrastructure as there is with the intermediate library districts in other states.

The Washington State Library Association, whose president is Carol Schuyler, a person with whom I am well-acquainted, is conducting an intensive lobbying campaign attempting to inform the legislators of the worthiness of the library. Carol has testified several times before various committees.

Just recently two legislators, a democrat and a republican, introduced a bill that would place the State Library under the aegis of the Secretary of State, an avowed library supporter. If this passes, the bureaucratic might of the Office of the Secretary may be able to save the library, albeit with deep cuts in its services. We shall keep our fingers crossed.


[Editor's Note: Keep your eye on our Web site for more on this issue. Michael Schuyler will give us his reaction after the fate of the State Library has been decided. In the interest of getting it out quickly, we'll post his thoughts at http://www.infotoday.com/cilmag/ciltop.htm instead of waiting through our 2-month-long publishing cycle. Also watch for weekly Newsbreaks from the Information Today newspaper, which you can access from the top of our home page.]